Titanergy Pole Mount System is applicated to install the solar panels on a single pole. According to different conditions, thereare several kinds of solutions for your choice.
Titanergy pole mount system is attached importance to the safety and duration. The systems have been calculated complied with the structural mechanics and tested strictly. Its material surface of the parts,such as steel and aluminum, are all finished to get a great anti-corrosion for at least twenty years of outdoor use.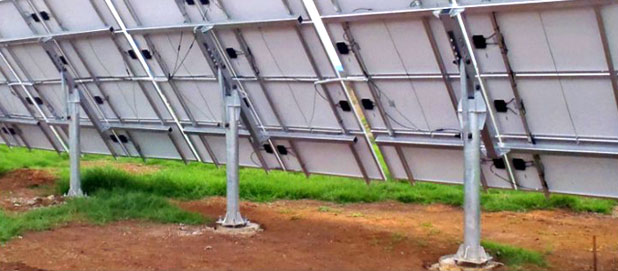 Technical Information
Nstall site: Open ground
Tilt Angle: 10~60deg
System Height: <5m
Max Wind Speed: <60m/s
Snow Load: <1.4KN/㎡
Standard: AS/NZS 1170 and other international Standard
Material: High Class Aluminum alloy Al6005-T5& Stainless steel 304 & Hot galvanized steel
Color: Natural or optional
Anticorrosive: Anodized aluminum & Hot galvanized
Warranty: Ten years warranty and twenty years service life

Benefits
Easy to install. The tilt-in module can be put into the extruded rail from the any location and can be high pre-assembly with the clamp to minimize the time and cost of installation. The high integrated support structure just need a few bolts to fasten together.

Offer unmatched durability: with all structural components comprised of high class stainless steel, anodized alumin-um alloy and the double anticorrosive finish for the steel pipe and cap, it is designed for twenty years service life and backed by ten years warranty.

Stand up to extreme weather. The Titanergy ground mount system is designed to stand up to the extreme weather complied with the AS/NZS 1170 and other international structure load standard by the skilled engineer. The main su-pport components also have been test to guaranty its structure and load-carrying capacity.

Provide broad installation flexibility. These systems accommodate most commercially available framed solar panels and diverse foundation solution, and they can scale easily from small to large, multi-megawatt installations.